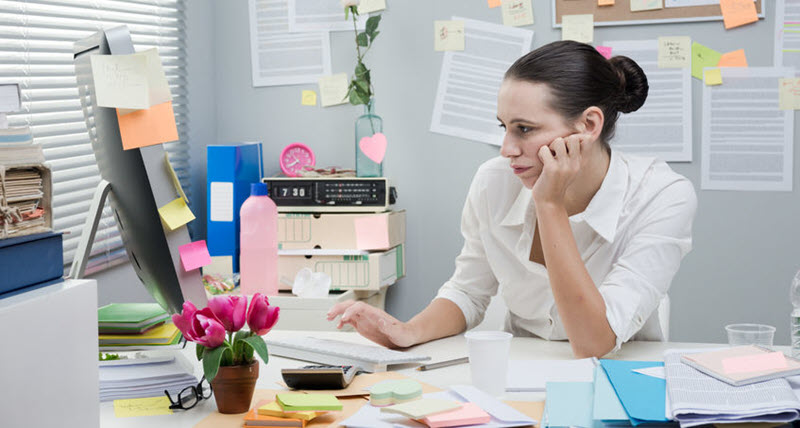 As spring FINALLY gets underway here in New England, the paper piles in our homes and offices get bigger and bigger with each new mail delivery, each new batch of papers your kids bring home from school, and each office meeting, conference and memo delivery. If you are overwhelmed with dealing with the paperwork in your home or office and want to find a way to keep it all under control, try setting up a Command Center.
To get your Command Center started, you will need:
Shredder
Trash/recycle basket
Hanging file folders
2 Paper trays or baskets or bins labeled FILE and ACTION
For home: a wall pocket or paper tray or basket for each member of the family who receives mail/paper
Once you've assembled your materials, just follow a few easy steps, and you're ready to go:
After you've sorted through the day's mail, incoming ppaperwork and the papers your kids bring home from school, take a few minutes right then and there to shred, throw away or recycle any junk mail. Keep a shredder close by to make this easy. It takes about 2 minutes to do this on a daily basis. This keeps paper from piling up, and keeps the important stuff from getting lost in the shuffle!
For home: when you've gotten rid of the junk mail, delegate any paperwork that someone else needs to take action on to them by putting it into their labeled basket/tray/wall pocket.
Papers that need to be kept for the long-term but do not need an action taken on them should go into your "FILE" tray – to be filed later into your filing system (tax info, insurance policies, etc.)
Papers that need to have an action taken on them (bills, etc.), or need to be kept close at hand for short-term reference (schedules, directories, etc.) should go into your "ACTION" tray. This is a temporary holding spot so that you can sort incoming paper quickly and take time to deal with action papers a bit later.
Those "ACTION" papers will make up the contents of your Command Center:
Label a hanging file folder for every area in your home or work life that you receive paperwork for that you either need to save for the short-term (directories, schedules, reference materials, etc.) or on which you need to take action.
Put the labeled files into your desktop file box. These are your "action files".
Sort the contents of your "ACTION" tray into these action files.
Keep your desktop file box in an easy-to-access place near where the mail/incoming papers/school papers come into your home or office. In your office, this is usually right on your desktop. In your home, some great places are your kitchen counter, the bottom shelf of an upper kitchen cabinet, or a kitchen desk.
Now everything you need will be at your fingertips, easy to find, and not cluttering up your desktop or kitchen countertop!
Each Command Center will look different, with action files that pertain specifically to you, your work, or your family. Here are some categories that my clients and I have found useful:
At Work:
Meetings
Networking
Forms
Conferences/Travel
Boss(name)
Assistant (name)
At Home: 
Kid's Activities
Church/Synagogue
Errands
Medical (for school physical forms and upcoming medical test slips)
Order (tear out page from catalog and save here for future consideration)
Sports team name
Name of child (for papers concerning them)
For Both Work and Home: 
To Pay  (bills)
To Go  (events – mark on calendar first!)
Directories/Addresses
Data Entry (info that needs to get into your computer – addresses, etc.)
Call/E-Mail
Waiting on Response
Current Projects  (insert a labeled file folder for each project into the hanging file.)
Read  (keep these papers in a file folder which hangs inside the hanging file, so you can carry it with you on the road.)
Any paper that comes into your life, whether at home or at work, that needs to have an action taken on it, or needs to be kept at your fingertips for the short term, should have a place in your Command Center. This gives all of those papers that clutter up your desk and your countertop a place to live, and makes them easy to find when you need them. Think of the time and energy you will save when you can put your hands on exactly what you need when you need it – and banish those paper piles forever!