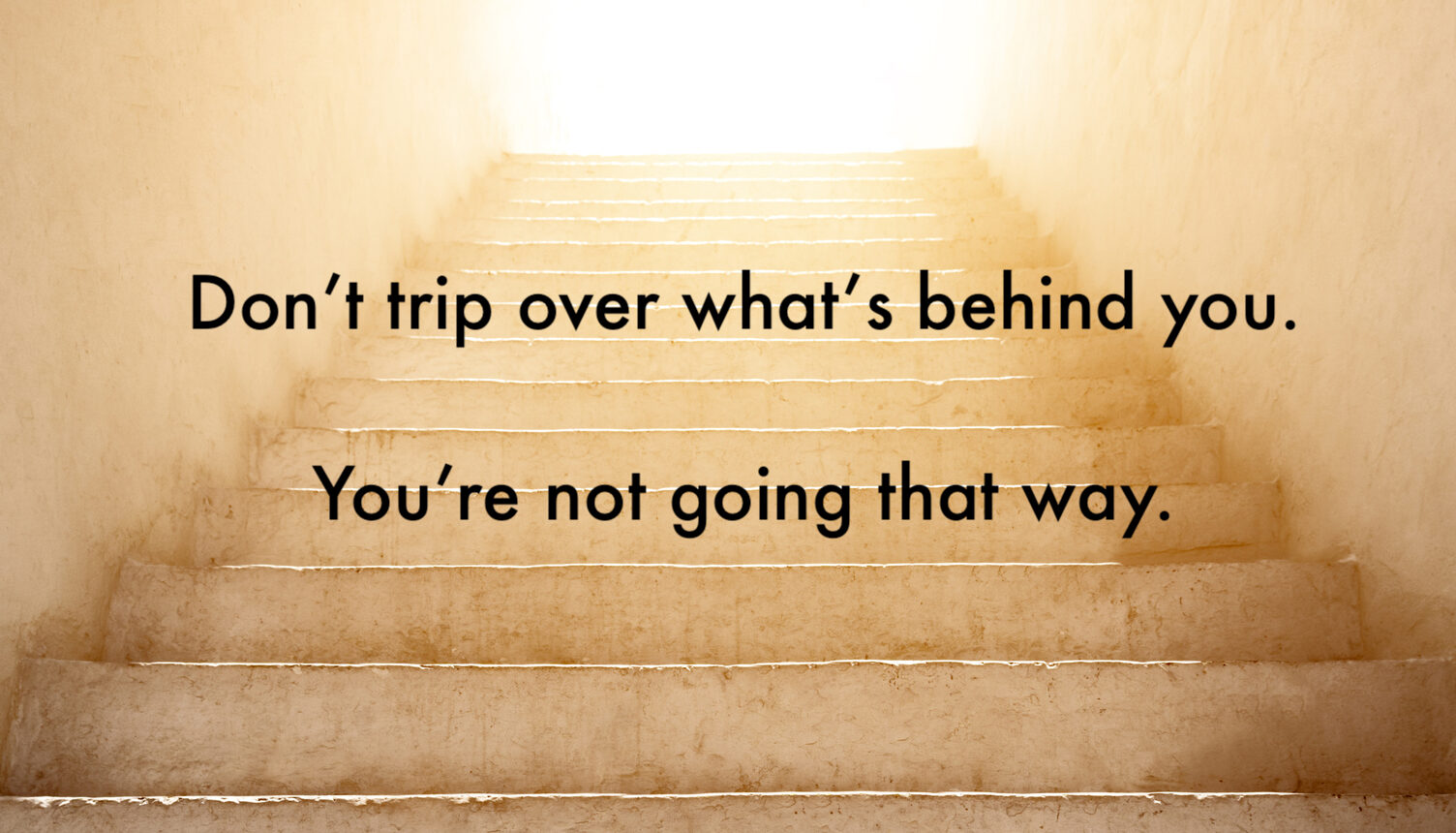 I can't remember where I first stumbled across the phrase, "Don't trip over what's behind you," but I recall that it made a significant impression upon me. We all struggle with letting go of negative stuff that has happened in our past, and have heard the "don't live in the past," "just let it go and move on," mantras over and over again (at least I have!) Yet for some reason, this phrase resonated with me. It could have been that, at the time, I was trying to counsel my adult daughter who was heroically trying to move on after making a very difficult life decision to let a toxic relationship go. Or one of the many times I was trying to take control of my physical health by improving my diet and revving up my exercise after having given up so many other times. But I think this particular phrase took hold because of the work that I do with my organizing and productivity clients, many of whom have tried in the past to gain control over their space and time, and failed again and again. The overwhelming sense of hopelessness and shame that they communicate when they finally contact me for help is heart-breaking at times. I can't count the number of times I've heard, "I've tried so many different ways to get a handle on my schedule/files/paperwork/office and I've given up every, single time. I feel like such a failure." They are habitually overwhelmed, overworked, and over-scheduled, and feel as if they're letting people down – family, clients, co-workers – all the time.
I had one client who was a very successful business woman, wife, and mom. We worked together organizing her business and home offices, and finally came down to the piece that had started the whole ball rolling – time management. When we finally finished with the parts of the project that involved physical organizing and establishing ongoing processes, it was time to tackle her time – schedule, calendar, tasks, etc. As I told her multiple times, this was the key piece to keep her newly organized spaces and systems going so she didn't end up in the same place from where she had started in just a few short months from the present time. She sighed and said, "well, I guess it's finally time to show you my 'drawer of shame…'" Yikes! I had no idea what to expect. But what she finally showed me was a drawer packed full of…planners. All shapes, sizes, and formats. The one thing they all had in common was that they were only partially used. In her quest to find the "perfect" time management tool, she had purchased, used briefly, and abandoned around 75 planners over the past several years. She had searched and searched for the perfect time management tool, and every time, she gave up. She felt an incredible sense of failure, and shame. Our primary task at that point was to acknowledge what had been done, what didn't work, what did, and how she needed to move past all of her perceived "failures." Once she stopped tripping over what was behind her and put the past in the past, she was able to look ahead to a new way of managing her time and the tools that would support it.
Ultimately, what most of my clients need to do is to to let go of what's behind them and move on to the next step. The first step is to figure out what has worked in the past, and what hasn't.  One of the things I emphasize is that every past "failure" really isn't a failure, but another way to figure out what needs to happen in the future to insure success. Looking back at what has already happened is only productive in a limited way. Looking ahead, forgiving oneself for past attempts, and focusing on the future leads to a more productive and positive outcome! September, and the beginning of fall, can be a wonderful time to make a fresh start.
"You can sit there forever, lamenting about how bad you've been, feeling guilty until you die, and not one tiny slice of that guilt will do anything to change a single thing in the past. Forgive yourself, then move on!" Wayne Dyer